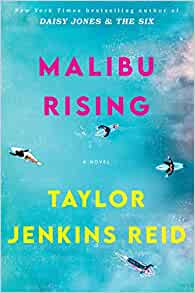 Malibu Rising by Taylor Jenkins Reid
Format: Audiobook
Who it's for: Adults
It's official: I am obsessed with Taylor Jenkins Reid and her writing. This book is about the Rivas family and their life in lavish Malibu. As most families, the Rivas have a few dysfunctions and each individual character has a secret of their own. Nina, the oldest is currently on a journey to find herself. She never wanted to be the center of attention but in order to provide for her family, she is thrown into a life of fame that brings people into her life that she's not sure are there for her, or for something else. The book tells a story of what happens on the night of the infamous Nina Rivas end of summer bash. The twists and turns of this book, and the secrets that these characters hold will have you wanting to know more and more about this family.
I am a big fan of audiobooks and the narrator was able to bring this story to life. I cannot wait to see what Taylor Jenkins Reid gives us next.