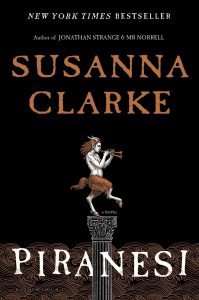 Piranesi by Susanna Clarke
Format: Book, eBook
Who it's for: Adults
Perfect for fans of Madeline Miller (Circe, Song of Achilles), Piranesi is the story of the titular character who lives in a labyrinth-like House with countless rooms, statues, and even an ocean trapped inside. Through Piranesi's journal entries, we learn about the Tide, the 13 skeletons he cares for, and the Other, the only other living human Piranesi encounters. 
It's best to go into this book knowing little about it, so I won't give too much away, but as we learn of Piranesi's discoveries in the House and his interactions with the Other, something starts to feel a bit off. Where (and what) is the House? Who is Piranesi? Who is the Other? 
It takes a bit of effort to get through this book – it's not long (under 250 pages, far shorter than Clarke's 700+ page Jonathan Strange and Mr Norrell), but it's chock full of symbolism and metaphor. Take the time to read slowly to appreciate the references and uncover the mysteries of the House and the Other with Piranesi.