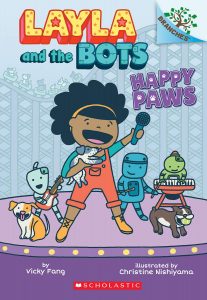 Layla & the Bots: Happy Paws by Vicky Fang
Format: Book
Who's it for: Kids
Layla and her robots are rock stars and inventors! They're super excited to perform at Happy Days Amusement Park… until they hear that the park is closing down. The whole town has gone dog-crazy, and everyone is spending their time at the dog park. To save Happy Days, Layla and her bots will have to use all their design and engineering skills to create something totally new- "Happy Paws!" the amusement park for dogs. This easy chapter book is a 2021 Maryland Blue Crab Young Reader Award honor book for Beginning Fiction.
Find it (and other Layla and the Bots books) in the catalog!