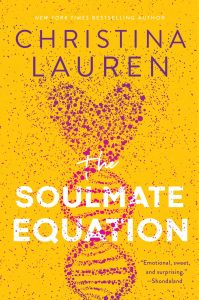 The Soulmate Equation by Christina Lauren
Format: Book, eBook, digital audiobook
Who it's for: Adults
Single mom Jess Davis lives a life consumed by numbers. As a free-lance statistician, Jess cannot stop thinking about numbers, even when the work day is done. She constantly sees the number of extra hours she will need to work, the number of dollars she needs to make ends meet, and the number of years until she can finally relax. One item that does not merit a number on her list of worries is dating. But when Jess learns of a DNA based dating app that uses highly scientific data to match potential partners, she can't help but be intrigued. However, when she is matched at a near-Soulmate level to the grumpy CEO of the company, Dr. River Pena, Jess isn't sure if playing by the numbers is going to help her figure out love. Writing duo Christina Lauren are masters at writing swoon-worthy books, and The Soulmate Equation is no exception.