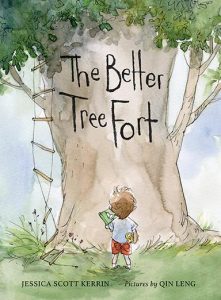 The Better Tree Fort by Jessica Scott Kerrin, Pictures by Qin Leng
Format: Picture Book
Who's it For: Children (and parents)
Russell has the perfect tree for a tree fort in his back yard. He wants to build a tree fort with his Dad. Though the task is beyond both of their skill set they are determined to figure it out. Russell and his Dad research, plan, measure, walk the store aisles and they succeed! Russell thinks he has the perfect tree fort until…a tree fort appears in the back yard of a neighbor a few houses down. The neighbor's tree fort has many more bell and whistles. After much thought and discussion Russell realizes both his tree fort and his Dad are perfect for him. There will always be a better tree fort but, not for Russell. A heartwarming book and ever warmer lesson.
An excellent example of International Children's Literature, both Jessica Scott Kerrin and Qin Leng are from Canada.
International Children's Literature (ICL)