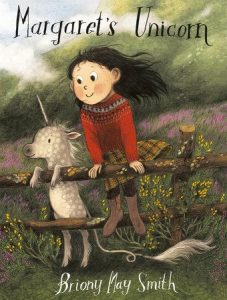 Margaret's Unicorn by Briony May Smith
Format: Book
Who it's for: Kids
Margaret's life completely changes after her family moves to a cottage by the sea, but not in all the ways she might have expected. A little lonely and missing the familiarity of her old home, she goes out to explore. She soon discovers a baby unicorn tangled up in weeds, accidentally left behind by its herd. They become inseparable fast friends, crunching through the leaves of fall together, stargazing, chasing waves at the beach, and making a snow unicorn with an icicle as its horn. As the seasons change Margaret misses her old home less and less, but every day spent together brings them closer to the day she knows her unicorn will return to his family in the spring. Despite having to say goodbye, they will never forget each other.
Margaret's Unicorn is gorgeously illustrated, with warm and inviting tones depicting a wild countryside reminiscent of the Scottish Highlands. As you read Margaret's story, you can almost feel the wind flying over the rolling green hills littered with thistles and purple heather, a gloomy sea in the distance. Every page is magically and thoughtfully crafted. Kids ages 4-8 will be spellbound.