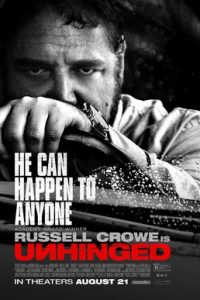 Unhinged
Format: DVD
Who it's for: Adults
This psychological thriller shows road rage at its dreadful form. We have all experienced road rage at some point in our lives and Tom Cooper (Russell Crowe) takes it to the extreme. Rachel (Caren Pistorius) is running late to drop her son off at school and work, when she has an altercation with Tom at the traffic light. She blows her horn at him because the light turns green and he fails to react. Life has dealt Tom some bad cards and Rachel compounds his problems by doing that. He apologizes to her for not realizing that the light had turned green, and expects one from her in return. Rachel refuses to apologize and this sends Tom off the rails. He becomes hell-bent on ruining her life and taking away everything that she holds dear and goes on a maniacal rampage. He wants Rachel to know that her words and actions have consequences and he wants retribution!
This thriller touches on the different problems in society and the increase in people's stress levels.