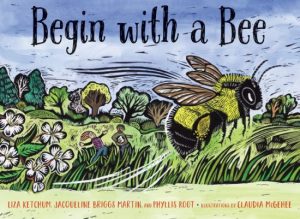 Begin with a Bee by Liza Ketchum, Briggs Martin, and Phyllis Root
Format: Book
Who's It For: Children and Adults
What's the buzz? It's the life cycle of a bee! Explore the life of the rusty-patched bumble bee, well-known for its fuzzy yellow and black hairs. Did you know that this bee is native to the United States? Have you seen them?  Follow this bumble bee from underground hibernation, to pollination, to colonization. Illustrator Claudia McGehee brings the bee's story to life with gorgeous woodcut-like (scratchboard) drawings. Did you know that rusty-patched bumble bees are on the U.S. Fish and Wildlife Service's endangered list? This non-fiction book concludes with suggestions of how bee-lovers can "bee" helpful to bees.
Check it out! 🙂