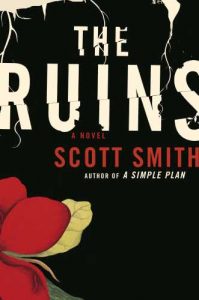 The Ruins by Scott Smith
Format: Book
Who it's for: Adults
Two young couples decide to take a trip to Mexico.  The group enjoyed the beach, hotel, and making friends with fellow tourists when the brother of one of the couples goes missing.   The group ultimately decides to go searching for the missing brother.  Trekking through the Mexican jungle, the group stumbles upon a village which is only the beginning of the creeping horror; they endure throughout the story.  What started as an exciting day-trip gradually spirals into a terrifying nightmare when they find the remains of an ancient ruins site… and the disturbing presence that lurks there.