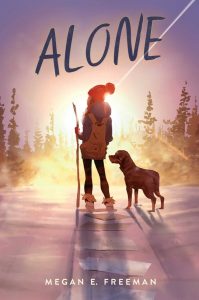 Alone by Megan E. Freeman
Format: Book
Who it's for: Kids, Teens
After waking up in a town evacuated while she slept, Maddie has to learn to survive on her own. At only twelve years old, she weathers harsh climate, natural disasters, illness, looters, and wild animals. Remembering her dad's advice to "stay put" during a crisis, Maddie scavenges nearby houses for food and supplies, soon also finding the neighbor's Rottweiler, George, who becomes her constant companion. With only George and the books she's able to pilfer from her local library to keep her company, brave and determined Maddie perseveres in the hopes that one day her parents will come back for her. In simple but powerful verse, she often heartbreakingly remembers her life "before," worries about her loved ones, and wonders when – and if – she will ever see them again.
Alone is a middle-grade novel in verse and Megan E. Freeman's debut. At 400 pages, it manages to be incredibly fast-paced and keeps its momentum until the last page. Reminiscent of Hatchet, Island of the Blue Dolphins, and the I Survived series, Alone is a story about the internal struggle of isolation, but also, survival, courage, family, and hope.