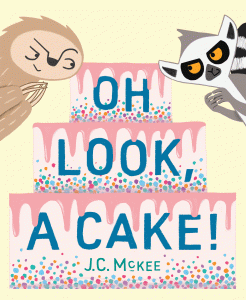 Oh Look, A Cake! by J.C. McKee
Format: Book
Who it's for: New for Kids
Oh look, a cake! I wonder who left such a yummy cake out? Can it be eaten? Can it be shared? Lemur and Sloth are wondering too! Join these two friends as they puzzle over a delicious discovery of a lifetime and maybe learn a few very important lessons about looking but not eating.
Fans of Elephant and Piggie and other quirky character duos may enjoy Lemur and Sloth's moral dilemma of cake eating, cake sharing, and cake consequences. Author and illustrator J.C McKee's colorful pastels will definitely draw kids in but adults are definitely invited to enjoy this silly story and its slightly less silly twist. A warning for parents- the cake is not the only thing eaten! Always check who the cake belongs to before taking what's not yours in the animal kingdom! Your child might not understand the ending, but grown ups sure will!
Rest assured that you can say "oh look, a book!" with little consequence at your local library branch! Find Oh Look, A Cake! in the catalog here.