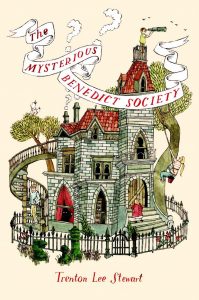 The Mysterious Benedict Society by Trenton Lee Stewart
Format: Book
Who it's for: kids, everyone
The Mysterious Benedict Society follows four children – Reynie, Kate, Sticky, and Constance – as they join Mr. Benedict's secret organization in an effort to defeat evil. After completing tests and solving puzzles, the four unlikely friends are brought together in an effort to solve the mysteries plaguing their little town. Why are people disappearing? What's going on at the Learning Institute? Follow the adventures of these four unlikely friends as they work together to solve the mysteries.
This book was enjoyable from beginning to end! It was quick-paced with lots of little twists and turns and a strong found-family theme. While this is a children's book, I'd recommend it for anyone of any age. If you like mysteries, I recommend giving this book a try!
The Mysterious Benedict Society is the first in the series, and has also been made into a TV show on Disney+.