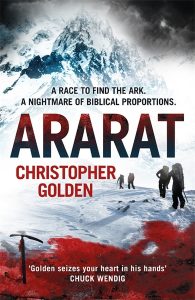 Ararat by Christopher Golden
Format:  Book
Who it's For:  Adults
After a huge avalanche forces Adam Holzer and Meryam Karga, a couple climbing Mount Ararat, to hunt for shelter in one of the mountain's caves, they stumble upon what they believe to be Noah's Ark. Thrilled by their finding, the couple visions of turning their luck into a best-selling biography. Inside the ark is a great coffin that rapidly becomes the primary interest of the crew. Speculating who might be inside, with theories stretching from Noah himself to other biblical figures–the crew, after a passing disagreement, makes the choice to break open the coffin. But instead of discovering Noah, a horrible, evil-looking, horned cadaver rests inside.
What could go wrong?
Quite a lot. Particularly when an invading strangeness runs its nails down everybody's back; when the crew turns abnormally malicious, needy, or fearful. When the crew awakens screaming, mysteriously overwhelmed by long-buried childhood terrors. When people disappear.