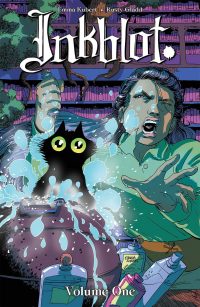 Inkblot by Emma Kubert, Art by Rusty Gladd
Format: Book & eBook on Hoopla
Who's it for?: Teens and Young Adults
Meet Inkblot! Anyone who cohabitates with a cat knows that our feline friends are going to do what they want, when they want. Inkblot is no exception. Seeker, a bookkeeping sorceress, accidentally summons this magical black cat, a "space-distorting demon" that has "no regard for any established law of nature, magic or otherwise." As Seeker chases Inkblot through time and space, he leads them into chaos, from a pirate mutiny to battling giants and dragons and even solving a sphynx's riddle. If you're a cat person who happens to enjoy space travel, I highly recommend.