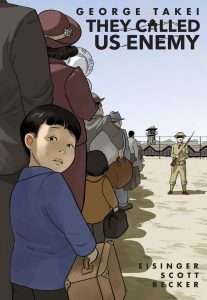 They Called Us Enemy by George Takei
Format: Graphic Novel
Who it's for: Teens and Adults
What did the Japanese Internment Camps look like from a kid's eye view? George Takei, well known for his role as Lieutenant Sulu in the original Star Trek series, was a 5 year old boy living in California in 1942 when his family was taken from their home and sent to live in a series of faraway Internment Camps for the duration of World War II.
The graphic novel is a great format for this biography that allows you to simultaneously see this story from the point of view of a child, his parents, and you the outside observer. You'll get insight into life in the camps, the effects such an experience has on people for the rest of their lives, and the questions we must all ask ourselves about human rights, patriotism, and justice.
If you haven't tried a graphic novel before, let this one be the first!
Find They Called Us Enemy in the catalog
Find They Called Us Enemy in Hoopla