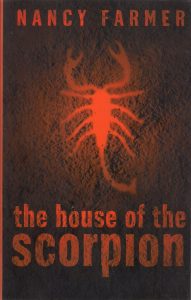 The House of the Scorpion by Nancy Farmer
Format:  Book
Who it's For:  Teens and Adults
Matteo Alacrán wasn't born; he was harvested.  His DNA came from El Patrón, lord of a state called Opium—poppy fields lay between the United States and land that what was once named Mexico.  Matt's cells were divided inside a petri dish, and he was then placed in the womb of a cow, where he continued to develop from embryo to fetus to baby.  He is a boy at the present, but most see him as a monster—except for El Patrón.  El Patrón loves Matt as he loves himself because Matt is himself.
As Matt fights to understand his existence, he is threatened by a menacing cast of characters, including El Patrón's tyrannical family, and he is surrounded by a dangerous army of bodyguards.  Escape Matt's only chance for survival.  But escape from the Alacrán Estate is no promise of independence because Matt is marked by his difference in ways he does not recognize.