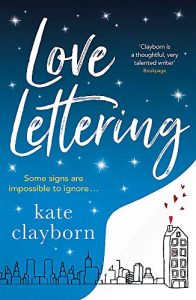 Love Lettering by Kate Clayborn
Format: Book
Who it's for: Adults
Love Lettering follows Meg, a calligrapher and social media sensation, as she's confronted by a client from her past who believes she's included a hidden message for him in the work he's commissioned. After an awkward conversation, Meg can't seem to get him out of her head, and she asks to see him again. What begins as an odd encounter turns to friendship, and possibly something more. 
This book was a little hard to get into in the beginning, but once Meg and Reid begin their adventure around New York City, it's hard to put down! What makes this book great and worth a read is that it doesn't follow your average plot for romance novels, so it was exciting to see the way Clayborn added some variety to the genre!