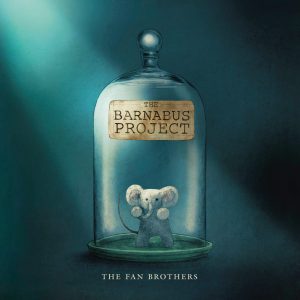 The Barnabus Project by Terry, Eric, and Devin Fan
Format: Book, eBook
Who it's for: Kids
A 2021-2022 Black Eyed Susan Book Award nominee, The Barnabus Project tells the story of Barabus, a "failed project" living in a glass jar under the Perfect Pets store. Barnabus and his friends were created in the lab under the store, but didn't quite turn out as expected. Barnabus, half elephant and half mouse, discovers that he and his friends are about to be recycled. Cue the escape scene! Barnabus and the other "failed" projects work together to try to make it to the outside world they've heard so much about.
Terry and Eric Fan are known as The Fan Brothers, a writer-illustrator duo responsible for such works as The Night Gardener, named an ALA Notable Children's Book. In The Barnabus Project, they are joined by their brother Devin in his debut. The brothers' artistic style is almost cinematic and the details will keep everyone interested.
Some aspects of the story are a bit dark (there are scary green-suited figures, and the lab itself is depicted as quite dark and mysterious), and the story brings up questions about what "perfect" and "failed" really might mean, so parents and caregivers may want to read The Barnabus Project before sharing with the kids in their lives to be sure it will appeal to them.
Find The Barnabus Project in the catalog.