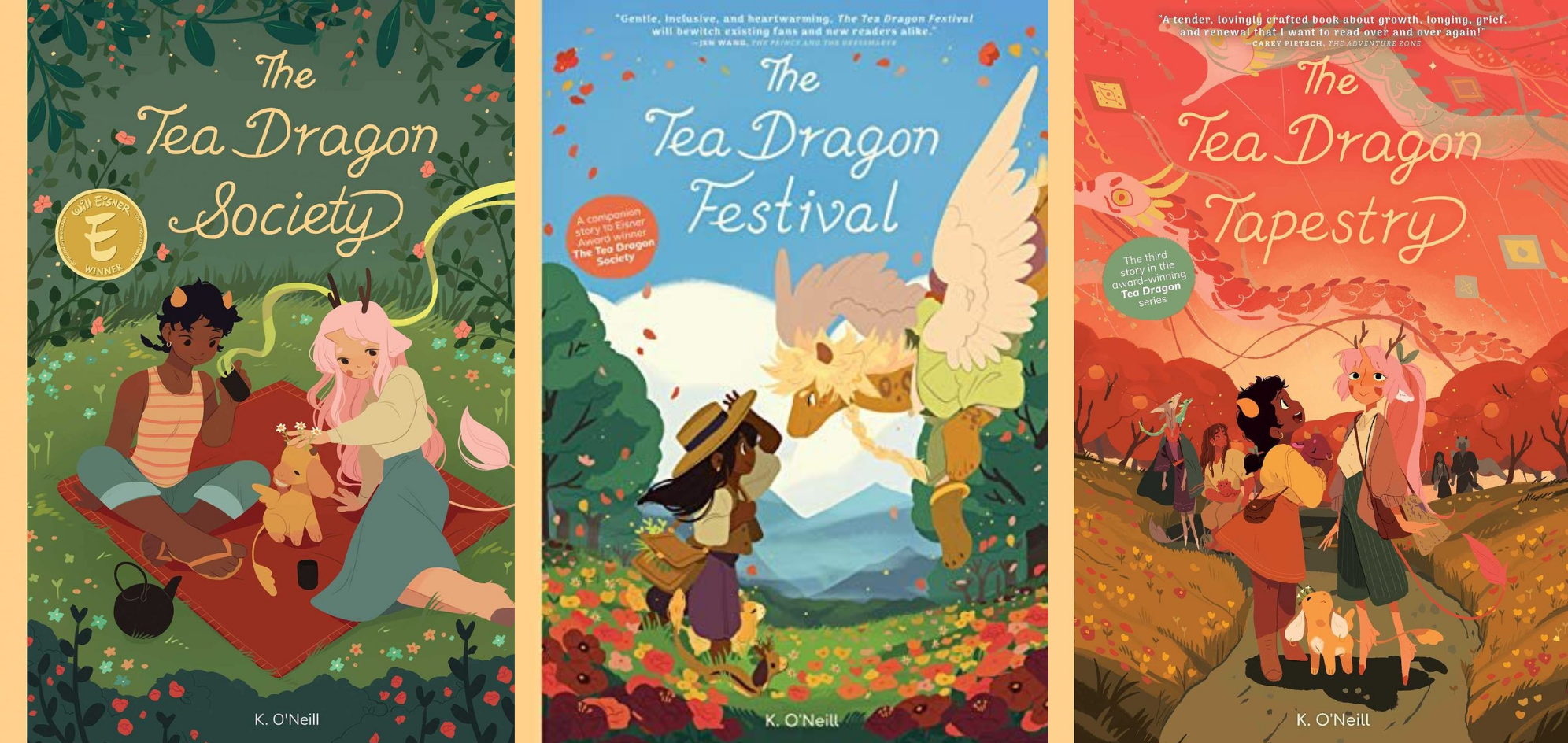 The Tea Dragon Society Series by Kay O'neill
Format: Book & eBook on Hoopla
Who is it for?: Everyone
Prepare yourself for an overload of adorable in a world where tea leaves grow on the antlers of tiny dragons. In volume one, Greta a blacksmith's apprentice, meets new friends and the tea dragons that they care for. Minette is a former prophetess with a mysterious past. Hesekiel and Erik, retired adventurers, are the last remaining members of The Tea Dragon Society. Together they work to keep the knowledge of tea dragon care alive. In volume two, The Tea Dragon Festival, we meet Rinn, a forager from a small village in the mountains. On one of their quests, they meet Aedhan, a dragon from the Silver Wing Clan that accidentally took an 80-year nap. In volume three, The Tea Dragon Tapestry, Greta pursues an apprenticeship with a famous blacksmith from a faraway city and Minette has reoccurring dreams of memories she thought were lost to her.
The series touches on a lot of very important themes such as friendship, grief, and personal growth. Each volume includes pages from the Tea Dragon Handbook. Kay O'neill's art is warm and charming. I enjoyed seeing how they "dragonified" the different kinds of teas. Chamomile is cute and sleepy while Jasmine is regal and well-groomed. This graphic novel series is perfect for someone who wants something calm, endearing, and lovely to read. Find The Tea Dragon Society in the catalog or on Hoopla!