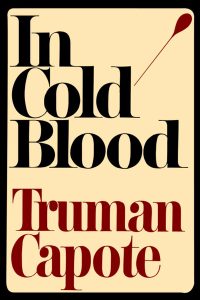 In Cold Blood by Truman Capote
Format: Digital Audio and CD
Who's it for: Adults
In Cold Blood is a non-fiction novel detailing the four 1959 murders of the Clutter family in their home. The tragic event took place in Holcomb, Kansas in the early morning hours of November 15, 1959.
It took authorities six weeks find and arrest the felons.
Capote and his good friend and writer Harper Lee traveled to Holcomb to interview the town, residents and investigators of the case.
It took Capote six years of detailed, extensive research to write the book describing the lives of the murderers and the victim's.
The murderers were two ex-convicts who had been recently paroled from the Kansas State Penitentiary. Richard Eugene "Dick" Hickock and Perry Edward Smith. They robbed and murdered Herb, his wife Bonnie, his son Keyon and daughter Nancy.
The novel chronicles the lives of the murderers, family and surrounding community members, providing an in depth look at what they were thinking and feeling.
Hickcock and Smith spent five years on death row and were finally executed by hanging on April 14, 1965. The jury only deliberated for 45 minutes before finding them both guilty.