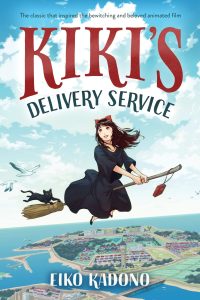 Kiki's Delivery Service by Eiko Kadono
Format: Book
Who it's for: Kids
It is witch tradition that at thirteen a young witch leaves her home to find a town in need of magical services. Half-witch Kiki hasn't fully mastered her magical abilities yet, but she also never runs from a challenge. Flying on her broomstick (one of the few magical things Kiki actually is pretty good at) with her black cat, Jiji, Kiki decides to stay one full year in the seaside town of Koriko. At first she's met with some skepticism by the locals, but determined and lovable Kiki quickly finds her footing.
Kiki's Delivery Service is a wholesome and warmhearted coming of age story. Originally published in 1985, it was later adapted into the animated movie of the same name by legendary director Hayao Miyazaki in 1989. The newest translation was published in 2020 with new beautiful new cover art and illustrations by Yuta Onoda. Families looking for a book to read aloud together will love its episodic chapters, but I wholeheartedly recommend Kiki's Delivery Service to any witch in need of a cozy read.