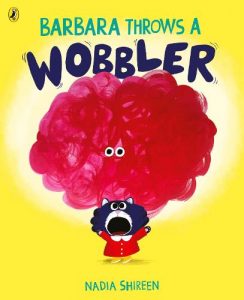 Barbara Throws a Wobbler, Written and Illustrated by Nadia Shireen
Format: Book
Who It's For: Kids
Have you ever "pitched a fit"? Or maybe "had a tantrum"? Yep, me too. But I bet you've never "thrown a wobbler"! That's just what happens to Barbara in this lovely book about moods.
It started with a small problem in the morning, but then came another and then another. Barbara was in such a Very Bad Mood by midday that nothing made her happy, not even sharing an ice cream with a friend. Suddenly, wham! Barbara threw a Wobbler. Except this time, her Wobbler was real, hanging in the air right over her head! It grew and grew until it swallowed her up and the only thing Barbara could see or feel was the Wobbler. "Am I going to be stuck inside here forever? she cried. She thought and thought till she realized that she had made this Wobbler herself. If she made it, could she un-make it? Or will she be trapped inside her angry Wobbler forever? Read Barbara Throws a Wobbler to find out. A great book for kids about moods and tantrums, how they feel and what we can do about them.