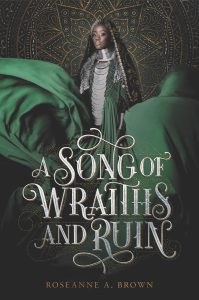 Series Title: A Song of Wraiths and Ruin by Roseanne A. Brown
First Book: A Song of Wraiths and Ruin
Who it's for: Teens
A Song of Wraiths and Ruin is an enemies to lovers fantasy romance that is inspired by West African folklore. While I'm not much for enemies to lovers, I did enjoy reading the first book in this duology. We have Malik, our first main character that has anxiety—yes to mental health representation— and he's traveling with his sisters to a new city so they can make some money and send it back home. Malik has a kind heart and that ends up being used against him. He ends up having to kill the princess in order to save his youngest sister, Nadia.
Then there's Karina, she's a strong and resilient princess that has just lost her Mom. Karina knows that she is not fit yet to rule the kingdom by herself yet so she sets out on a mission to bring her mother back to life, but in order to do that she needs a King's heart. That's where the Solstasia competition comes into play, as a prize, she will marry the winner of the competition.
I was definitely invested in this story wondering how these two were going to develop a relationship and can't wait to read the second book.