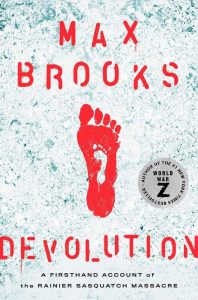 Devolution: A Firsthand Account of the Rainier Sasquatch Massacre by Max Brooks
Format: Book, eBook, Digital Audiobook
Who it's for: Adults
If you've read World War Z, you know Max Brooks is the master of writing imagined violent disasters as if they were non-fiction, and his latest book Devolution continues the tradition.
The novel is presented as the diary entries of Kate Holland, resident of Greenloop, a secluded environmentally-conscious neighborhood of telecommuting professionals in the vast forested area of Washington state, interspersed with interviews of other individuals impacted by mysterious events that occurred there in the wake of a volcanic eruption at Mount Rainier.
Kate's diary begins when she arrives in Greenloop, and the first few entries consist of descriptions of her quirky new neighbors, complaints about her husband Dan, and observations about the elegant "smart" homes. She goes for invigorating nature walks, attends a cathartic meditation class, pretty standard stuff. But after Rainier erupts, and Greenloop is completely cut off from civilization, it becomes apparent that a group of enormous bipedal primates are living in the woods surrounding her community. Sasquatches are real. And they are hungry.
If you like fast-paced adventure, survival stories, or have always been fascinated by the legend of Bigfoot, you should definitely make this your next read.