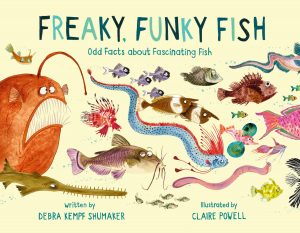 Title: Freaky, Funky Fish: Odd Facts about Fascinating Fish by Debra Kempf Shumaker
Who's it For: Children of all Ages
Format: Book
There once were two young boys who were like moths to a flame for anything marine animals. One I dubbed the "Little Professor" because he would unwittingly alter his voice as he spouted this or that fact. I took a photo of the other as a child. Instead of saying "cheese" I said "dolphin." His face lit up with a broad smile. These two youngsters were my sons. They are now young adults. However, "Freaky, Funky Fish" is exactly the kind of book that they would have glommed onto as kids.
The illustrations are bright, amusing, and varied.  There are dozens of marine animals depicted with their name next to their humorous drawing.  What a great way to thumb through a book and learn animal names!  The author also "classifies" these creatures on a scale of 1 to 5 on a "funky" or "freaky" rating.  Funny!  Did you know that the parrotfish covers itself with a veneer of snot to repel parasites?  And the archerfish can spit to tag its insect meal?  This book is weird.  And it is gross.  Yet it is very entertaining.  What a great way to learn!
I am sure that many a child and adult will pour over this book with a smile on their face and some new facts to talk about at the dinner table.  Enjoy!
What are you waiting for?! 😉 Find Freak, Funky Fish in the catalog.