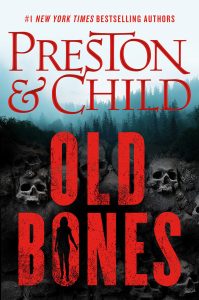 Old Bones by Douglas Preston and Lincoln Child
Format:  book
Who it's For:  Adults
The handsome Historian, Clive Benton, contacts Nora Kelly, a successful archaeologist, to lead an excursion unlike any other. Clive begins his story containing the Donner Party. Benton explains he has found a diary that contains information on the "Lost Camp" and its location.
Fascinated by the Donner Party, Nora agrees and they travel into the Sierra Nevada in pursuit of the camp. They learn that the excavation of the lost camp, is just the beginning, and the fact behind those pioneers is not only far more complex than they could have believed, but it puts them both at risk from a very real threat in which the hunt for the lost party and its legendary treasure are simply means to a disturbing end.