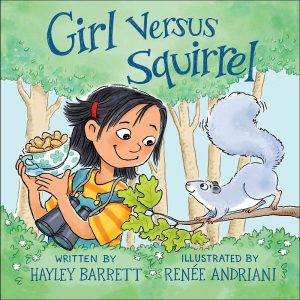 Girl Versus Squirrel by Hayley Barrett, illustrated by Renée Andriani
Format: Book
Who it's for: kids, everyone
Pearl likes putting up bird feeders and watching the birds snack on the seeds and peanuts in her yard, but when a pesky squirrel comes and dines instead, she is determined to do what it takes to keep the squirrel away from her bird feeders! Will Pearl be able to outsmart the squirrel, or are her plans no match for such a speedy opponent?
This was such a cute book, and the factual information in the back of the book about squirrels is a wonderful addition to the story. This book can serve as a young readers' introduction to bird (and squirrel!) watching, and maybe it'll even inspire some readers to set up bird feeders in their own backyard – maybe even some squirrel feeders, too!
Find Girl Versus Squirrel in our catalog!