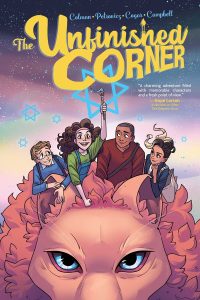 The Unfinished Corner by Dani Colman
Format: Book, Graphic Novel
Who it's for: Kids
Twelve-year-old Miriam has a lot going on in her life. She's preparing for her Bat Mitzvah (a Jewish coming-of-age ceremony for young women) and she's got Big Feelings about it. On top of that she's just gotten accepted into a really cool art school, that she neglected to tell her friends she even applied to, so she's got Big Feelings about that too. And on top of all that she's preparing for a Tikkun Olam (Hebrew for "repair the world") outreach trip with her best friends Avi and David, and her worst frenemy Judith. And on top of all that her Rabbi is actually an angel in disguise who informs her that G-d left the Universe unfinished and needs her to finish it. Wait. What?!?!
So begins this lovely graphic novel adventure inspired by Jewish mythology and incorporating Jewish philosophy. Miriam, Avi, David, and Judith encounter angels, demons, a Golem, the literal Lion of Judah, and more, as they learn valuable lessons from the Torah, Tanakh, and Talmud, on their quest to finish the Universe, while grappling with relatable struggles regarding friendship, family, what it means to be Jewish, and what it means to grow up. This is a sometimes funny, sometimes moving, all times wholesome story, with great art, and a diverse cast of characters, that I would recommend to any young fan of graphic novels.