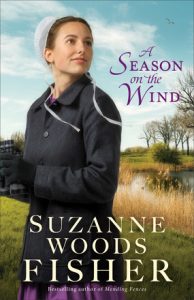 Title: A Season on the Wind by Suzanne Woods Fisher
Format: Book
Who's It For: Teens and Adults
Penny Weaver remembered Ben Zook from her childhood. She met him in the meadow near his family's farm. She taught him about birding while visiting her grandmother. Together, they traversed the countryside and spotted an eagle's nest.  They became friends.  However, decades later, Ben did not remember Penny.
Ben Zook left Stoney Ridge and his Amish faith long ago. He had become a world-renown photographer. One day, Ben returned with his cousin Natalie to rent Penny's guest house. And they hired Penny's brother Micah for his keen birding skills. Micah had spotted the elusive White-winged Tern.  Ben wanted Micah to help him to spot it to photograph it. It was actually Micah's pesky neighbor Trudy Yoder who'd seen the bird.  Could Micah find it?
Penny provided a meal daily for Ben's father, Zeke Zook.  The poor man suffered from Alzheimer's and, she suspected, loneliness.  He was gruff to most people, yet he trusted Penny.  Why hadn't Ben returned home when his mother passed?  Were there unresolved issues between Ben and his father?
An Amish widower named Roy King brought flowers for Penny.  Roy liked Penny, and yet Penny couldn't get Ben out of her heart and mind.  Micah liked Shelley, Trudy Yoder's beautiful older sister.  And Trudy liked Micah.  What a pickle!
Penny loved birds and privately kept a collection of drawings of them in her home.  In her last church, she had been told that drawing was prideful. Penny didn't want to draw attention to herself.  She simply loved birds.  So, when she moved to Stoney Ridge and a new church, she didn't show her drawings to anyone.  Yet Natalie snooped and found some.  She loved them!  As an interior decorator, she knew she could sell them for Penny.  What if she just took one to look into it for Penny?
A Season on the Wind is a touching tale of wounded hearts, flawed individuals, and restoration.  I enjoyed the context of birding and Micah's humorous birding notes.  Penny was clearly the heroine, yet the surrounding cast was personable and realistic, with their own issues to overcome too.  If you enjoy an inspirational story of love and faith and character, I recommend this book to you.  
And you can find A Season on the Wind in our catalog.