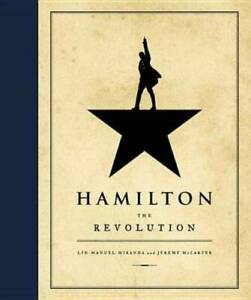 Hamilton: the Revolution: Being the Complete Libretto of the Broadway Musical, with a True Account of its Creation, and Concise Remarks on Hip-Hop, the Power of Stories, and the New America by Lin-Manuel Miranda and Jeremy McCarter
Format: Book
Who it's for: Adults
Stories have the power to move us, whether we read them in a book or see them on a screen or a stage. The smash-hit musical Hamilton, composed and written by Lin-Manuel Miranda, is no exception. The show illustrates the real-life story of Alexander Hamilton, a Founding Father who was the United States' first Secretary of the Treasury.
What fans of the musical may not know, though, is the inside scoop on the work that went into the show, from casting to writing lyrics. For instance, did you know that Leslie Odom Jr., who originated the role of Aaron Burr, made the choice to perform in Hamilton over playing a lead role in the NBC show State of Affairs? If you're intrigued and want to learn more facts such as this, you may want to read Hamilton: The Revolution, which provides a behind-the-scenes look at the show. Written by the show's creator, Lin-Manuel Miranda, as well as author Jeremy McCarter, this book includes comments on the show's lyrics, creation, and actors, as well as photographs from its original Broadway run.
Through illustrating the creation of a musical, this book may be of particular interest to readers who are artists of any kind—writers, painters, musicians, actors, etc.—because it shows the creative process of a composer and lyricist, which may inform the creative process of others.
Happy reading!