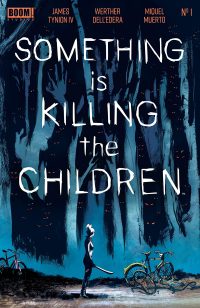 Something is Killing the Children by James Tynion IV
Format: Graphic Novel and eBook on Hoopla
Who's it for?: Adults & Young Adults
Do you remember when you were a kid and that monster was hiding in your closet? Remember how your mind would run wild with thoughts of the most forbidding and insidious creature imaginable? Maybe it had sharp claws, long fangs, and garish yellow eyes. Now, imagine if this creature were real?
The children of Archer's Peak, WI are being preyed upon by something brought to life by their most terrifying fears. The worst part? This is an evil only the children can see. The people of this small town can't be expected to defeat an enemy they can't even see. But the mysterious Erica Slaughter can see them and she kills monsters. Is there hope?
I recommend this enthralling and gruesome horror story to anyone who loves a good monster tale and doesn't mind the carnage that comes with it. You can find Something is Killing the Children in the Library's catalog or for instant download on Hoopla Digital.