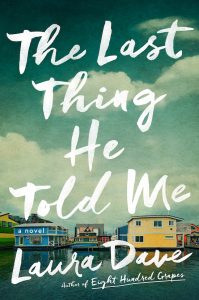 The Last Thing He Told Me by Laura Dave
Format: Book
Whose it for: Adults
Hold on to your hat…this is a quick binge reading book if ever there was one! The Last Thing He Told Me begins with Hannah Hall waiting for her husband, Owen, to return from work. As she's making dinner she hears a knock at her door and a young girl from the school where Owen teaches hands her a note from Owen. The note says "PROTECT HER". Hannah immediately knows that the 'her' she needs to protect is Owen's teenage daughter Bailey, her step daughter.  Hannah and Bailey have always had a difficult relationship and Bailey barely acknowledges Hannah, but Hannah loves Bailey and loves Owen that she must figure this out and try to protect her family. Hannah doesn't know where her husband is, if he will ever return or why Bailey needs protecting. As Hannah asks questions and traces Owen's past, she begins to discover that Owen was not the man she thought she knew. She also begins to believe that she may never see her husband again, and the future they dreamed about may never happen. Hannah must build a new life for her and for Bailey and at all costs, protect Bailey as Owen asked.
The Last Thing He Told Me is a thrilling fast paced mystery about intricate lies, fake identities and complex family relationships. Beware, The Last Thing He Told Me grabs you from the first page and is hard to put down so, prepare to devour it in one or two sittings!