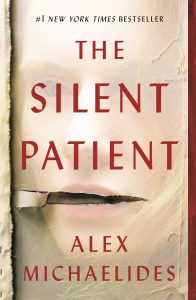 The Silent Patient by Alex Michaelides
Format: Book
Whose it for: Adults
Alicia and Gabriel Berenson lives seem perfect. She is a famous painter and he a top photographer. They are wealthy, beautiful and very much in love, yet one evening, Alicia kills Gabriel and then becomes selectively mute. The case becomes an instant sensation with everyone following it in the tabloids and wondering why she killed her husband and if she will ever speak again. Alicia is tried and convicted of murder and sent to a secure mental facility where she eventually meets Theo Faber. Theo is a psychotherapist who takes Alicia as a patient and becomes obsessed with getting her to speak and finding answers to the crime. Theo has clues to Alicia's thoughts through her art work and uses it to unlock the mystery of that fateful night.
The Silent Patient is a dark and gripping thriller that hooks the reader and doesn't let go until the remarkable ending. Find The Silent Patient in the catalog.