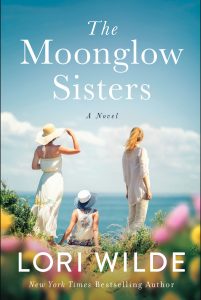 The Moonglow Sisters by Lori Wilde
Format: Book, eBook
Who It's For: Adults
Welcome to Moonglow Cove, Texas a picturesque small town of vivid colors, people and memories. Three young sisters, Maddie, Shelley, and Gia find themselves moving in with an unknown grandmother, Helen after the death of their parents. Embraced and raised by Helen amid multi-generational roots the sisters have the opportunity to heal and grow. Helen has successfully managed a bed and breakfast in the ancestral home her entire life. The sisters grew up cocooned in love and support until a betrayal rips them apart. Now with Helen's health failing the sisters return to Moonglow Cove and if Helen has her last wish the sisters will learn to forgive, work (and quilt) together and reunite.
Find The Moonglow Sisters in the catalog!