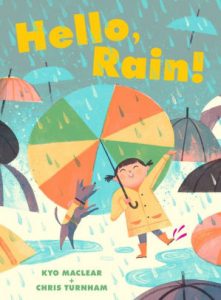 Hello, Rain! by Kyo Maclear
Format: Book
Who it's for: Children
Did you know that rain can be savored, enjoyed? As an adult, I primarily think of how not to get wet when it rains. Yet this book is a celebration of rain! With bright and cheery illustration, the author describes all that happens and all that a person could do when it rains, both indoors and out. She introduces the reader to the adventure of rain.  What does it sound like?  What does rain do?  How can we experience it? And how can we make it a special experience indoors too?
Kyo Maclear invites everyone to slow down and take in their encounter with weather.  I found that even just reading about rain was a delight.