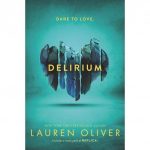 Title: Delirium by Lauren Oliver
Format: book on CD, e-book, book
Who's It For: Teens and Adults
Lena always thought it was a good thing to have the cure. Sure, she was a bit nervous. She knew the procedure would leave a three-pronged scar behind her ear. Her sister Rachel once thought she was in love. After she was cured, Rachel accepted her arranged marriage. Wasn't that a good thing? One night, Lena slipped out to a concert after curfew with her best friend Hana. And she also met Alex. Alex said he was safe.  He had the scar. Was it wrong to care about Alex? Or was Lena just delirious?
And Delirium is the first book in a series! 
Find it here.