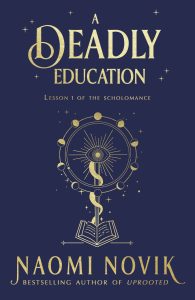 A Deadly Education by Naomi Novik
Format: Book, ebook, audiobook
Who is it For: Adults
"In Wisdom, Shelter." The official motto of the Scholomance, a giant, foreboding school for young wizards and witches. In the Scholomance, failure means death—or at the very least, lots of pain—as the school constantly throws all manner of hungry beasts and spirits at its students. Having allies watching your backs – as even a tray of scrambled eggs can be deadly – is a must, but making friends is rather hard to do when a dark prophecy is looming over your head and everyone brands you as a creepy outcast. Lacking any such friends and specializing in city-flattening magic, Galadriel Higgins has had to fight and strategize for her spot in the school more than most; for if she let loose, even a little, there would be dire consequences. To make matters worse, the entire school seems to think she has taken up with Orion Lake, the shining hero of the junior class, because he inadvertently saved her on a few occasions. How is she supposed to become dark empress of the world, if she keeps having to be saved?
This book has been one of my favorites this year! If Hogwarts took a page from the Hunger Games, you would end up with the Scholomance. This book is dark and gritty and the hard-core, survival mindset of the students is totally different from the typical fantasy settings. I thought Novik had some compelling ideas about how both wizards and the mundane interact with magic. I am very excited to read the next book in the series.