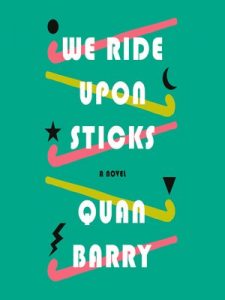 We Ride Upon Sticks by Quan Barry
Format:  Book
Who it's for:  Adults
It's 1989 in Danvers, Massachusetts, and the Lady Falcons field hockey team is easily the worst team in their high school league. Fed up with losing, the team uses their knowledge of the town's history as the site for the 1692 Salem Witch Trials to make a deal. This dark deal involves armbands cut from a blue athletic sock and an Emilio Estevez journal.
All of a sudden, the Lady Falcons cannot be stopped. They're breaking records and are on their way to the state championships. But at what cost? Emilio needs to be fed dark energy. The girls begin doing wicked deeds in order to strengthen the journal and continue winning.
Their goalie has a mark on her neck that looks like it's growing teeth and it really does seem like their center forward's bangs might be communicating with them telepathically.
If this sounds to you like the weirdest book ever, you wouldn't be wrong. While the writing is dense, the description, '80s references, and strange point-of-view make you feel like you are a part of the 1989 Lady Falcons. You really get to know each member of the team and what drives them to make the pact with Emilio.
We Ride Upon Sticks is truly impossible to put down once you begin. This is a great choice for fans of Bunny by Mona Awad or anyone else who enjoys strange stories about witchcraft and dark magic.
Find We Ride Upon Sticks in the catalog!