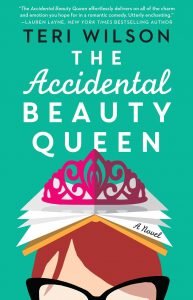 The Accidental Beauty Queen by Teri Wilson
Format: Book
Who it's for: Adults
Even though she is an identical twin, Charlotte Gorman has always been considered the sister with the "great personality," not that it has ever really made much difference to her. Nerdy, book-loving Charlotte is more than happy with her job as an elementary school librarian and keeps far out of the limelight cast by her pageant crown-seeking sister, Ginny. However, the night before the Miss American Treasure competition, Ginny has a severe allergic reaction and Charlotte is her only hope. Reluctantly, Charlotte agrees to secretly swap places with her sister and quickly discovers that there is more to the pageant world than she ever assumed.
The Accidental Beauty Queen is a delightfully fluffy romantic comedy—like the movie Miss Congeniality, if Sandra Bullock's character majored in English literature instead of law enforcement.