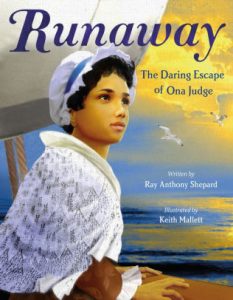 Runaway: The Daring Escape of Ona Judge by Ray Anthony Shepard
Format: Book
Who it's for: Kids
This book is based on a true story of a young woman who was born into slavery and taken from her mom when she was 16 years old. Ona Judge's mom was one of Martha Washington's slaves. When George Washington and his family were leaving Mount Vernon, they took Ona with them. She was initially a playmate for Washington's grandchildren, then a personal servant to Martha.
When Ona was told that she would be a wedding gift to one of Martha's granddaughters; a girl whom she had played with when she was ten, and the girl was seven, she decided to flee.
The author of this book uses rhetorical questions as a poetic way to recount the story of Ona's escape, in order to emancipate herself. He asks the question, "Why you run Ona Judge?"
The vibrant illustrations in this book help bring Ona's bravery to life.
This book is definitely a page turner!