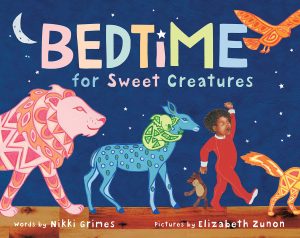 Bedtime for Sweet Creatures by Nikki Grimes, Illustrated by Elizabeth Zunon
Format: Book
Who it's for:  Kids
This new, fun book for kids is written by Nikki Grimes, an award-winning author and the illustrations are by Elizabeth Zunon who grew up in the Ivory Coast.  Ms. Grimes hasn't written a book in a while so this was a good one to read.  Ms. Zunon has a background in art as she works in paint, collage, sewing, silkscreens, jewelry and more.  The illustrations reflect her interest and are a combination of realism and fantasy.
Mommy and Daddy are trying to get their cantankerous toddler son to go to bed but the boy definitely isn't interested in settling down.  Mommy tries to coax him into bed and then reads a story to him.  It looks like it's going to work.  Until…  See for yourself how she finally solves the problem.
This is a good bedtime book to read to little ones for Black History month.  Read this delightful book to see how mother finds a way to calm her son.