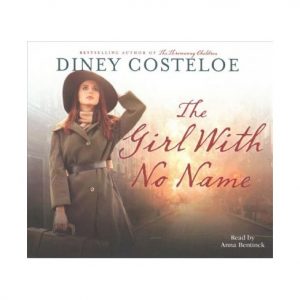 The Girl with No Name by Diney Costeloe
Format: CD Book
Who it's for:  Adults and teens
Lisa is a thirteen year old Jewish girl escaping Nazi Germany after her family has been driven from their home.  She was sent to England with other children and eventually arrived in London, lonely, scared and unable to speak English.  A childless couple took her in and cared for her.  Lisa attended school with many other refugee children and she gradually learned English.  When the Nazis bombed London Lisa escaped to a bomb shelter but she was injured.  She lost her memory and couldn't recall anything about her previous life.  She was transferred to a children's home until it also became a target of the attacks.  Another evacuation forced her to find a new home in the country with a kind spinster woman.  If you are a fan of historical novels, listen to this captivating story by Diney Costeloe.  This is the first book in the series.  The next one is The Married Girls.
The narrator, Anna Bentinck, has a wonderful speaking voice and makes this story come to life.  She is a British actress and producer who has done hundreds of broadcasts on BBC, was the voice for an animation series and has narrated many audiobooks.  The author, Diney Costeloe, writes historical novels and also writes romantic novels under the name of Diney Delancey.