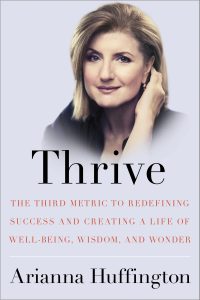 Thrive: The Third Metric to Redefining Success and Creating a Life of Well-Being, Wisdom, and Wonder
by Arianna Huffington
Format:  Audiobook
One evening in 2007, Arianna Huffington dropped to the floor in her home office.  The fall resulted in a horrible cut over her eye and a broken cheekbone.  After months of medical tests, it was determined that Arianna was suffering from exhaustion.  At the time, Huffington was working 18 hour days as the co-founder of The Huffington Post, writing books, appearing at speaking engagements and writing as a syndicated columnist.  Arianna had always thought to herself that these were all indicators of success.  By all accounts she was a successful woman.  But as she recovered from her injuries, Arianna took a step back and began to realize that society's definition of success was killing her.
Huffington compares society's drive to the legs of a three-legged stool.  Striving for money and power comprise two of the legs, but without the third leg, or "third metric" the stool will topple over.  As Arianna describes it, we all need a third leg, or "Third Metric" composed of our well-being, our ability to draw on our intuition and inner wisdom, our sense of wonder, and our capacity for compassion and giving.
In sharing her story, Huffington encourages us to disconnect from our devices more frequently, get more sleep, cherish the people we are with, enjoy exercise and adventure, and most importantly be kind to one another and ourselves.   Thrive is filled with scientific findings, the personal stories of athletes, quotes from famous philosophers, poets, and entrepreneurs, and Arianna's own personal stories.  We must all strive to remember the things that truly sustain us, prioritize the people in our lives who really matter, and be aware that we are actually living.