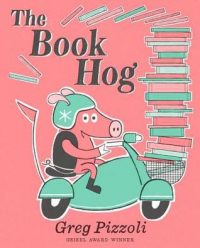 The Book Hog by Greg Pizzoli
Format: Book
Who it's for: Kids
Hog has quite the growing collection of books. He scoots around town on his moped and searches out great deals on them too. He'll look anywhere–from garage sales to garbage cans! Any books that Hog gets his hands are sure to become part of his collection. There's only one problem…Hog can't read a single one of his beloved books. In fact, he doesn't know how to read at all!
One day, out on his search for more books, Hog stumbles into his local library and joins in a storytime. With the help of a friendly librarian, Hog gains confidence in himself and strives to learn to read. And slowly but surely, he does! By the end of the story, Hog becomes a frequent library patron who no longer needs to buy books to enjoy a good story.
Pizzoli's The Book Hog contains charming illustrations and is an absolute joy to read. It also highlights the fact that the value of libraries cannot be defined simply in terms of their material offerings, but rather in the additional services they offer such as their dedication to encouraging early literacy skills. This fun story with its book-lovin' main character would be a great read to share with young children curious about reading on their own.