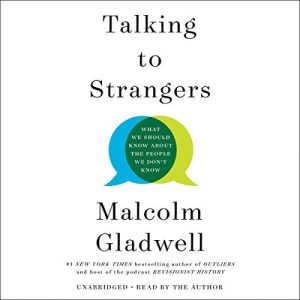 Talking to Strangers: What We Should Know About the People We Don't Know by Malcolm Gladwell
Format: eAudiobook, eBook
Who it's for: Adults
Talking to Strangers takes a close look at how we interact with each other and what assumptions we make everyday that change the way we communicate, judge, and interact. Gladwell, a #1 New York Times bestselling author dives into what at first appear to be separate and unrelated true stories of human interactions but then lead to his discussion of how many of the tools and strategies we use to make sense of people and their actions actually don't help us make good judgements or decisions. If we don't know how to talk to strangers, we are inviting conflict and misunderstanding in ways that have a profound effect on our interactions and relationships.
Gladwell narrates the audiobook and it is highly recommended. Not only do you hear Gladwell, but also interviews of many of the people he discusses. Even the court transcripts are brought to life with actors re-enactments. It is fascinating to learn about famous examples such as Bernie Madoff, Amanda Knox, and Sylvia Plath, hearing directly from many of the people involved in these real-life stories.