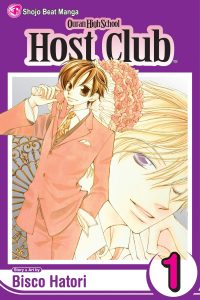 Series Title: Ouran High School Host Club by Bisco Hatori
First Book: Ouran High School Host Club Volume 1
Who it's for: Teens
A romantic comedy manga that had me adoring the characters and wanting to join in on their daily shenanigans. The series follows Haruhi, she's a scholarship student at a school for rich kids. When she's trying to find a quiet place to study, she stumbles into a music room that ends up being used by the school's host club. In her attempt to leave she ends up breaking an expensive vase and is now indebted to the host club to pay it back by being a host. Haruhi is a very logical and no nonsense person among people that don't tend to make much sense, especially Tamaki—the host club's king. Haruhi soons learns that even rich kids have their issues and warms up to them and the club members begin to understand Haruhi more too. I love all of the characters in Ouran High School Host Club with my favorite being Tamaki—he's always so over the top.