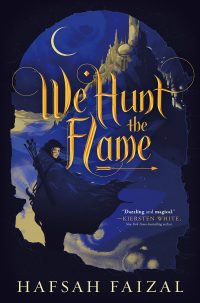 We Hunt the Flame by Hafsah Faizal
Format: Book
Who it's for: Teens
Set in an ancient Arabian-like world, We Hunt the Flame follows Zafia, the mysterious Hunter who is determined to provide food for her village. She disguises herself as a man to do so, despite her best friend urging her to reveal herself as a woman. She is the only one able to go into to encroaching, dark forest to hunt and come out not only alive but also sane. On one such hunt, Zafia is confronted by the powerful Witch of the wood. She tells Zafia she can stop the  Arz from consuming her homeland if she travels to an ancient island and retrieves a powerful artifact.
Nasir is a deadly assassin and the son of the king. His brutal father accepts nothing less than merciless efficiency from his son and punishes those he loves whenever Nasir fails. Nasir is tasked by his father to track and follow the hunter to the island to retrieve the artifact then kill the hunter. While on the island they encounter elves, shape shifters and sentient plants with a taste for human blood. The main characters discover new alliances and undercover the truth about those who sent them on this perilous quest.