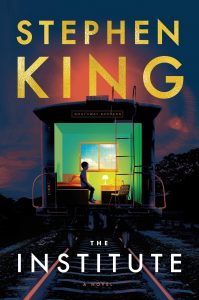 The Institute by Stephen King
Format:  Audio Book on CD
Who it's for:  Adults
Stephen King fans will be happy to hear he has a new audio book for your listening pleasures!
The story opens with Tim Jamieson surrendering his seat on the Delta flight from Tampa to New York for a refund and a hefty sum of money, so a federal officer could make the flight.  We follow Tim on his slow journey north, at least as far as South Carolina where he takes a job in the small police department as a Night Knocker.
The story then jumps to the outrageous kidnapping of Luke Ellis, a very intelligent 12-year-old boy, and the murder of his parents in their room down the hall.  Luke is loaded into the back of an SUV and eventually wakes up thinking he is still in his bedroom, except there isn't a window.  He finds several other kids, each of whom have some very special talents.  Some with telekinesis and others with telepathy.  Luke learns the ropes from these other kids who got there in the same manner he did.  He discovers that you need to "go along to get along".  If you do, you get tokens that allow you to purchase items from the vending machines.  Such as snacks, drinks, cigarettes, and even some brownies with a special ingredient.  If you don't go along, you are punished brutally.
You'll have to listen to find out how the character of Tim Jamieson comes into play with the other characters at "The Institute".
Find it in the catalog