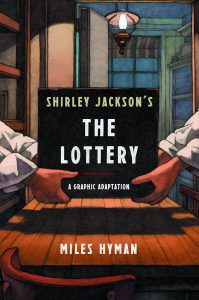 Shirley Jackson's "The Lottery" by Miles Hyman
Format: Graphic novel
Who's it for: adults
Shirley Jackson's short story "The Lottery" continues to thrill and disturb readers even after it was first published. "The Lottery" introduces upsetting questions about conformity, customs and traditions, and the ritualized violence that may besiege even the most rural, passive community.
This graphic adaptation by Jackson's grandson, Miles Hyman, allows readers to experience "The Lottery" in a new format. In a small American community, the current residents are alive with eagerness and anxiety when they wake on the morning of the twenty-seventh of June. Everything has been organized for the town's yearly ritual—a lottery in which all families must partake, and nobody desires to win.