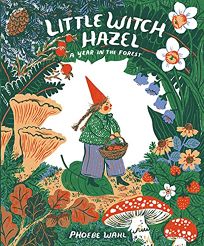 Little Witch Hazel: A Year in the Forest by Phoebe Wahl
Format: Book
Who it's for: Kids
In this four-season volume, Little Witch Hazel follows a tiny witch who lives in the forest. Hardworking and kind Hazel raises a baby owl, learns how to slow down and rest, and helps her friends and neighbors however she can. The world that Wahl creates with her beautiful illustrations and storytelling is whimsical, but also rooted very deeply in connection with nature and community. Hazel has a steadfast, quiet confidence and a commitment to being of service to others.
Little Witch Hazel is a soft hug of a book, with talking woodland creatures, homes made in tree stumps, and witches who heal. A sweet and gentle read for children ages 4-8.